An Open Letter to Cast & Crew
of Jesus Christ Superstar

The following letter was provided by the Elders of Grace Bible Church to members of the cast and crew of the production, as well as officers and committee chairmen of the Greenwood Little Theatre.
Dear Friend,
No doubt by now you have seen our ads in the Greenwood Commonwealth about Greenwood Little Theater's production of Jesus Christ Superstar. We plead with you to take no further part in its performance, and to use your influence to have it withdrawn from the stage.
Please be assured that we hold no animosity or grudge toward you whatsoever. But we are very sad to see the name of our Savior so disgraced, and the false accusations being made against Him by this performance.
We believe very strongly in religious liberty and the freedom of the conscience, and therefore we appeal to you personally - don't dishonor the Lord Jesus, who willingly and deliberately gave His life at Calvary to save every sinner who calls upon His name. Perhaps you remember that He said, "Greater love hath no man than this, that a man lay down his life for his friends" (John 15:13). Indeed, we so dearly love Him because He first loved us!
We hope you will receive this letter in the spirit of its intent - not as an attack, but out of our deep affection for the honor of the One who died to save us.
Our church website, www.gbcgreenwood.org, has a wealth of information regarding this matter. We would be happy to answer any questions you might have, or discuss this matter with you further.
Sincerely in our Lord Jesus,

George S Whitten, Sr., Elder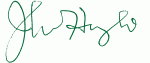 John P. Hey, M.D., Elder